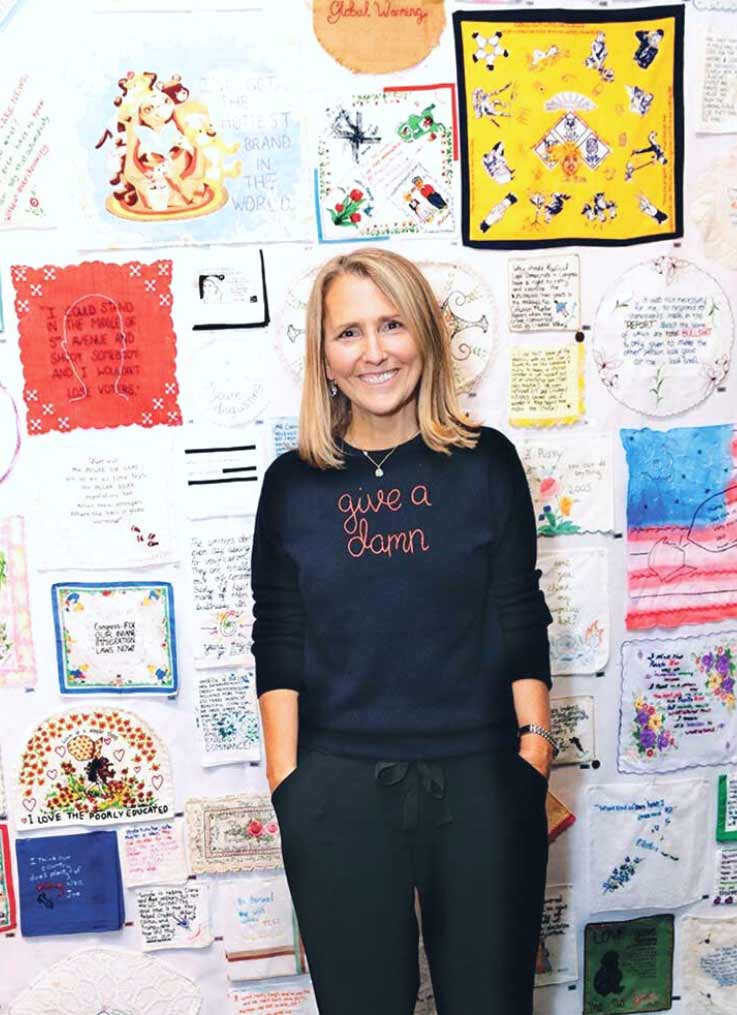 Artist Talk: Diana Weymar of Interwoven Stories & Tiny Pricks Project
Join the Arts Council of Princeton and artist/activist Diana Weymar for an in-gallery Artist Talk on Monday, July 11 at 5:30pm.
Diana Weymar is an artist and activist. She grew up in the wilderness of Northern British Columbia, studied creative writing at Princeton University, and worked in film in New York City.
Weymar is the creator and curator of Interwoven Stories and the Tiny Pricks Project, the former of which is on view in the Arts Council's Taplin Gallery through July 11.
Interwoven Stories is a community-based narrative stitching project created in March 2016. Conceived and facilitated by Weymar, then 2016 Artist-in-Residence, the project created a special dialogue within the Princeton community. With some participants picking up a needle and thread for the first time, each stitcher received fabric, sewn to resemble a blank 3-hole piece of notebook paper, to tell a story through their memories, honor beloved family or friends, or return home to a favorite place through needle and thread.
The response to this project exceeded wildest expectations. Each page spoke to the generosity, diversity, spirit, commitment, and creativity of this community and ultimately, more than 100 completed pages were donated to Interwoven Stories 2016 and displayed in our Taplin Gallery.
In 2018, we expanded to Interwoven Stories International when Diana returned to the Arts Council after taking the project on the road for two years to curate more than 250 pages collected from Princeton, The Peddie School, the Nantucket Stitching Gam, the Zen Hospice Project (San Francisco), Open Space Art (Damascus, Syria), Build Peace (Columbia), the University of Puget Sound (Tacoma), Yarns/NoDominion Theater (Jersey City), and Trans Tipping Point Project (Victoria, BC).
In the winter of 2022, the Arts Council announced the last opportunity to get involved in the project. Interwoven Stories: The Final Chapter went national, inviting eager stitchers across the country to participate. Pages were picked up locally, shipped across the nation, and one by one, returned with the unique touch of a new story to be told, adding the stitcher's voice, thoughts, and thread to our permanent collection of pages.
This exhibition showcases the 300+ "pages" that have been part of the Interwoven Stories collection since 2016. Visit, peruse each piece, and marvel in embroidery's storytelling power.
If you cannot join in person, use this link to livestream the event.
She has worked on projects with Build Peace (in Nicosia, Bogota, Zurich, and Belfast), the Arts Council of Princeton, the Nantucket Atheneum, the W.E.B. Du Bois Center at UMass Amherst, the University of Puget Sound, The Zen Hospice Project (San Francisco), the Peddie School, Open Arts Space (Damascus, Syria), Trans Tipping Point Project (Victoria, BC), New York Textile Month, Textile Arts Center (Brooklyn, NY), The Wing (NYC and SF), and Alison Cornyn's Incorrigibles project, as well as Syrian journalist and activist Mansour Omari. She is a judge / presenter for All Stitched Up at the University of Puget Sound. She has also curated exhibitions at the Princeton, NJ headquarters of Fortune 500 company, NRG Energy, and exhibits for the Arts Council of Princeton