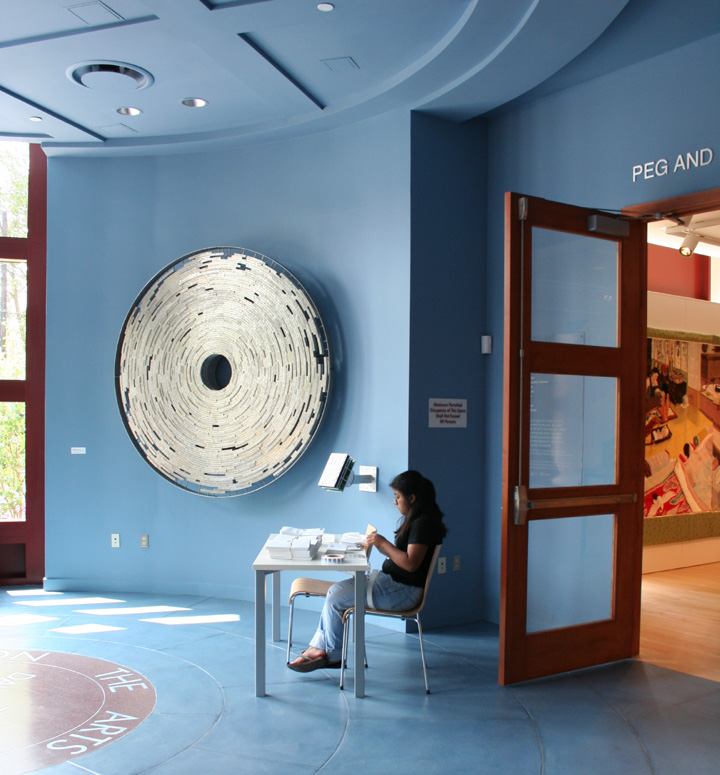 Donor Wheel, Joshua Kirsch
More than 2,000 donors are acknowledged in this one-of-a-kind sculpture by Joshua Kirsch
The Arts Council commissioned New Jersey artist Joshua Kirsch to create a wall sculpture as an acknowledgment of the more than 2,000 donors to the Campaign to Build the Paul Robeson Center for the Arts. The spectacular interactive wall sculpture features a six foot diameter disk with all donor names in alphabetical order. Visitors may select a section of names to view by using a key pad. When a letter is selected, the sculpture rotates to center the alpha section, which is illuminated.
Interview with Joshua Kirsch
The Arts Council sat down to talk to Joshua Kirsch about his art and the Arts Council's new donor sculpture:
How would you describe the work you do?
I like to describe my work as sculpture for the sake of sculpture. With this in mind, I aim to create art that is not only aesthetically pleasing but also engaging and captivating. I always pour tons of attention into the details. It is very important to me that my art appear just as accomplished when viewed up close (if not more so) as when viewed from afar. I'm fascinated by little screws and wires and I love to showcase these materials in my work. Everything is out in the open for the viewer to see and nothing, not even the electronic circuitry, is ever hidden from view. Instead, it is treated as sculptural medium and given the same thought and attention as the rest of the sculpture. There is very often an interactive aspect that is central to my work. I like to think there is never a velvet rope that separates my art from the viewer. Instead, he or she is invited to touch the sculpture, to look at it up close, and to change and manipulate it in whichever way he or she seems fit. Therefore it is not simply a product of my own artistic expression, but a manifestation of the relationship between the sculpture and the viewer. It's that interactivity that ultimately allows my work to achieve its full potential.
What inspired the circular design of the donor wheel?
The design for this sculpture came about as a creative solution to two questions: One, how can we display a large number of donor names in a small space while giving equal consideration to the placement of each name? And two, how do we set this donor wall apart and treat it more as a unique piece of sculpture than just a standard list? I tried to address these questions when planning the ACP donor sculpture. The work's rotating circular design literally gives each contributor an equal amount of time in the spotlight while showcasing each and every name with modern materials and white light. Ultimately, however, I'd say I chose the circular design because I like circles. For me, there is no more pleasing geometric shape than a circle and I use circles and circular motion in just about everything I make.
Why do you incorporate so much elaborate technology in your sculpture?
I like to create the kind of art that I would find striking if I saw it somewhere. If a piece of art catches my eye, chances are it will either be kinetic or electronic in some way or another. That is why I like to incorporate those concepts into my own work. Although my art may seem to be quite technologically sophisticated, it is actually relatively uninvolved compared to some of the other stuff that's out there. I generally like to take some of the simplest of circuitry (LED's, capacitors, resistors, etc.) and utilize it in such a way that it appears intricate and beautiful. Although technology definitely plays a pivotal role in my art, my real passion lies with the construction and fabrication… What's the best way to attach this piece of plastic to this piece of aluminum? What size screw will I use? If I use this type of spring here, will that apply the right amount of tension? These are the questions that get me really excited.
Where do you draw inspiration from?
I'd say that I'm inspired by objects and materials more than anything else. A simple glass reed switch was the inspiration for an entire sculpture series and over two and a half years of work, that is still ongoing. A couple of years ago I dropped a piece of wood on a concrete floor and it produced a clear resonant tone. I was immediately inspired to create a musical sculpture that incorporated this idea. This is actually the direction I see myself going in next. I want to create interactive sculptures that are not only beautiful, but functional, too, so that you can actually play them like you would a musical instrument. I feel that this idea will create an even deeper relationship between sculpture and viewer, allowing him or her to create his or her own music with my art.
Any memorable experiences with the Arts Council?
So far, everything's been going pretty smoothly. It's been really exciting working with the Arts Council on this project, developing ideas and solving problems, pushing towards a final product that we're all fired up about. Above all, I am very grateful to have the opportunity to create this unique work of art for the Arts Council and to be given the chance to bring my vision and talent to such a cool project. When completed, I believe the sculpture will be an elegant and captivating piece of art that will proudly showcase all those who made possible the construction of the new Paul Robeson Center for the Arts, and the advancement of Princeton's artistic community, which I am very happy to be a part of.
Joshua Kirsch is a sculptor who works primarily in electronic components.
The Arts Council of Princeton gratefully acknowledges the generosity of the more than 2,000 individuals and organizations who have contributed time, money and services towards the Campaign to Build the Paul Robeson Center for the Arts. It is a tremendous statement about the greater Princeton community's commitment to the arts.
Paul Robeson Circle
($1,000,000 and above)
Helena & Peter Bienstock
Judith & William Scheide
Michelangelo Circle
($500,000 – $999,999)
David Mathey
Estelle & George Sands
Rembrandt Circle
($100,000 – $499,999)
Timothy M. Andrews
Didi & James Burke
Betty Wold Johnson & Douglas Bushnell
Concordia Foundation
Michael Graves
J. Seward Johnson, Sr. 1963 Charitable Trust
Sally & David McAlpin, Jr.
Princeton University
Katherine Solley
Weezie & John Steffens
Peg & Frank Taplin, Jr.
Mozart Circle
($50,000 – $99,999)
Anonymous
Bristol-Myers Squibb
Barbara Chancellor
Donna & Mort Collins
Eve Coulson
Deborah & Gary Gartenberg
Llura & Gordon Gund
Robert Kaye
Nelson Obus
Nancy O'Connor
The Ralph E. Ogden Foundation
Dorothy & Charles Plohn, Jr.
Amy & Jay Regan
Jeniah Johnson & Tom Sheeran
Caroline S. & F. Helmut Weymar
Anne Wright & Bob Wilson
Carol & Alex Wojciechowicz
Martha Graham Circle
($25,000 – $49,999)
Anonymous
Chris Baker, Esq.
The Bunbury Company
Helen & Martin Chooljian
Micaela de Lignerolles
Rysia de Ravel
Alex J. Ettl Foundation
Judy & Tony Evnin
Suzanne & Dan Goldenson
Patricia Hagan
Sam Hamill, Jr.
Nancy & Duncan MacMillan
The David Mathey Trust
McCarthy & Schatzman, P. A.
Leslie Dowling & Carlo Momo
Maria & Raoul Momo
Wendy Mager & Eric Monberg
Ernestine & Herb Ruben
Ray Stratmeyer
Susan & Donald Wilson
Picasso Circle
($10,000 – $24,999)
Wendy W. & Peter Benchley
Bloomberg L.P.
Anne Lee & Charles Brown
Lisa & Norman Callaway, Jr.
Dr. Edward T. Cone
Jenny & Jon Crumiller
Dow Jones Foundation
Elizabeth Ettinghausen
The Glenmede Trust Company
The Institute for Advanced Study
Sarah & Landon Jones
Carroll King
Ann & John McGoldrick
Donna & Harold Neas
James Ottaway, Jr.
Ann & Conrad Plimpton
Cokie & Steve Roberts
Marsha Novick & Harvey Rosen
Joan & William Roth
Joan & William Schreyer
Marjorie & Stanley Smoyer
Ellen & Albert Stark
Patty Adell & Jeff Sussman
Susan & Jim Swartz
Charlotte Taylor
Martha & George Vaughn
Harriet & Jay Vawter
Maria & Phillip Yang
Emily Dickinson Circle
($5,000 – $9,999)
The Bolton Foundation
Robert Cannon
JoAnn & Phil Carchman
Melanie & John Clarke
Mrs. J. Richardson Dilworth
Jessica Durrie
Ray Egan
Sara Davies & Eugene Gillespie
Robert Hendrickson
Kristina Johnson
Anna Rosa & Joe Kohn
Casey & Samuel Lambert III
Mrs. Victor Lange
Carin & Leighton Laughlin
Christine Lokhammer
The Curtis W. McGraw Foundation
Jackie & Cy Meisel
Charles B. Reeves, Jr.
The Robert Wood Johnson Foundation
Laurance Rockefeller
Tom Rowe
Vivian & Harold Shapiro
Janet & Winthrop Short
Dara-Lyn & Daniel Shrager
Ann & Austin C. Starkey, Jr.
Kimberly von Brandenstein & Charles M. Stone III
Caren Sturges
Gail & Richard H. Ullman
Hemingway Circle
($1,000 – $4,999)
Michael Aaron
Alison Gwen Fraker Memorial Fund
American Repertory Ballet/Princeton Ballet School
Teresa & John Anderson
Robert Aresty
Nancy & Henry Arnold
Deanna & Sal Arnone
Arts Council of Princeton Staff
Blair & Bill Ayers
Ellen & Charles Baber
Carol & Gregory Bagen
Katherine & Mohammad Baki
Bank of Princeton
Jennifer Mullen & Edward Bergman
Geralyn Berkery
Cindy & Frits Besselaar
Anne Bienstock
Lisa & Anthony Bienstock
Eliza Bienstock
Heather Bienstock
Louisa Bienstock
Luke Bienstock
Moira & Nicholas Bienstock
William Bienstock
Sharon & Alan J. Bilanin
Sheila Bodine
Tink & Joe Bolster, Jr.
Gloria & John Borden
Kathy Taylor & Mark Boulding
Mary Ellen & Bill Bowen
Janet Lasley & Marc Brahaney
Dorothea Berkhout & Paul Breitman
Dina & Paul Brewer
John Burke
Elizabeth & Edgar M. Buttenheim
N.T. Callaway Real Estate Broker, LLC.
Christina & Lawrence Chai
Fleur & James Chandler
Alice & Horace Chandler
Marvin Cheiten
Margaret Considine
Josephine & James Constantine
Liz Fillo & Chris Coucill
Hope & Louis Crosier
Judith K. Brodsky & Michael Curtis
Deb & Steve Cusma
Kate Hughes & Bob Del Tufo
Mira & George DeMartino
Jane & Charles Dennison
Liz Hock & Peter Dougherty
Archie & Wayne Douglas
Marlene & Aiden Doyle
Lori Martin & Chris Eisgruber
Liz & Jon Erickson
Erin Enright & Stuart Essig
Sue & Greg Evans
Lynne & Robert Fagles
Maxine & Steve Farmer
Anne Ferguson
Liz & Miguel Fernandez/Migedan
Foundation
Christopher Forbes
Carol & Jerry Freedman
Kimberly Kaye & Robert Fried
Friends of Merwick
Karen & Brian Fullerton
Mary & Bern Gallagher
Family Foundation
Meredith Asplundh Gardner
Brigitte & Reinhold Gebert
Pat & Aristides Georgantas
Helen & Peter Goddard
Margaret & Bob Goheen
Bunny & Marv Goldberg
Pam & Carl Good
Carol & Alan Goodheart
Joanna & Andrew Gordon
Martha & Daniel V. Grossman
Cheryl & Elliot Gursky
Halo Pub
Christine Grant & Mike Halpern
Jeanne Carter & Dan Halpern
Mary Louise & Charles Hartman
Emily & John Harvey
Rev. Daphne Hawkes
Jennifer & Maximillian Hayden
Peter Hegener
Kathy & Jamie Herring
Carol P. & H. James Herring
Richard Herring
Janet & James Hester
Joan & A.C. Reeves Hicks
The Historical Society of Princeton
Randy & Herbert W. Hobler
Andrea & Bo Honoré
Dana Hughes
Priscilla & Richard Hunt
Jamie Phares-Jacobson &
John Jacobson
Jamieson, Moore, Peskin & Spicer
Jo & Frank Johnson
Lynn & Robert Johnston
Florence & Steve Kahn
Karen House & Peter Kann
Susan Strassberg & Ugur Kaytmaz
Amanda & James Kelleher
Teresa & Jim Knipper
Knoll, Inc.
Vera & Immanuel Kohn
Leslie & Christopher Kuenne
Nancy Staub Laughlin
Lawson-Valentine Foundation
Dede & Peter Lawson-Johnston
Lysa Leland
Ellen & Harry Levine
Nancy & William Lifland
Donna & Gordon Lokhammer
Robert & Elizabeth Luginbuhl
Gayle Ciallella Lundgren
Cassie & Chuck MacDonald
Dr. Cynthia J. MacKay
Henry Martin
Cecilia & Michael S. Mathews
McCarter Theatre
Cynthia McClintock
Robin & Jon McConaughy
Alvin McGowen
Hella & Scott McVay
Peter D. Meltzer
Susan Taylor & Paolo Meozzi
Nancy & Jim Merritt
Meg Michael
Deborah & Jack Morrison
Caroline & Roger Moseley
Jean Korelitz & Paul Muldoon
Music Together
Cindy & Glen Myers
The Nassau Inn
David Nathans/ The Nathans Family
The Nathanson-Tell Family
Joan & Bruce Nemirow
Elyse & Michael Newhouse
Karen & John Nichols
Laurie & Andrew Okun
Anne & Peter O'Neill
Nora & James Orphanides
Elizabeth & William Osborne
Martha Otis
Phoebe & Andrew Outerbridge
Carrie & John Pallat, III
Palmer Square Management
Arti & Samir Patel
Claire & Edward Percarpio
Elizabeth Stetson & William Pettit
Jacqueline & Elwood Phares, II
Pharmanet Development Group
Linda Pickering
PNC Bank Princeton
PNC Foundation
Dana & Henry J. Powsner
Candace & Marvin Preston
Kathleen & Jonathan Preziosi
Princeton Area Community Foundation
– The Herb & Fay Abelson Fund
– The Elly & Giorgio Petronio Fund
– The Anne Van Lent Fund
– The Leslie "Bud" Vivian Fund
Princeton Borough Merchants Association
Princeton Junior School
Princeton Public Library
Princeton Regional Chamber of Commerce
Princeton Shopping Center
Princeton University Art Museum
Princeton University Art Museum
Docent Association
Princeton University Press
Princeton YWCA
Arnold Rampersad
John H. Rassweiler
Ingrid & Marvin Reed
Karen & Archie Reid
Ann & Jerry Reilly
Millard Riggs, Jr.
Carol & François Rigolot
Lynn & Jerry Ringland
Kim Rizk/ Henderson Sotheby's
International Realty
Elisa & Richard Rosen
Rosetta
Rotary Club of Princeton
Christine & Charles St. John
Jamie Sapoch/ The Sapoch Family
Shirley Satterfield
Dr. & Mrs. Daniel Sauder & Family
Debbie Schaeffer
Ruth & David Scott
Virginia & William Selden
Sydnor & Noel Settle
Max Shane
Pamela Sherin
Joyce & Stephen Shueh
Myrna & Lawrence Siegler
Gwynneth & Frank Smith
Caroline & Ken Smith
Nina Wainwright & Tom Sowanick
Judy & Edwin Stier
Mr. & Mrs. Henry Stratmeyer, Jr.
Sheila & Donald C. Stuart, III
Stuart Country Day School
Flora Ling & Paul Sturm
Madhvi & Ramesh Subrahmanian
Linda B. Sullivan
Dorothy Bedford & Rush Taggart
Patricia & Toby Taylor
William Taylor
Tenacre Foundation
Harriet Pakula Teweles
Robert Teweles
Janet Stern & George Theodoridis
Grace White & W. Bryce Thompson
Katie Poole & Ward Tomlinson
Pam & John Torkelson
Charles Townsend, Jr.
Patricia Trapp
Barbara & Robert Trelstad
Letitia & Charles Ufford
University Orthopaedics
Cynthia & William Venizelos
Kimberly Vine
Happy & John Wallace
Deborah Walson
Westminster Choir College
Diana & Matthew Weymar
Myra & Van Zandt Williams, Jr.
Ruth & Donald Wilson
Kathleen & John Winant
Lisbeth & Norman Winarsky
Albert Wise
Marcia & Warren Wood
Patricia Wormser