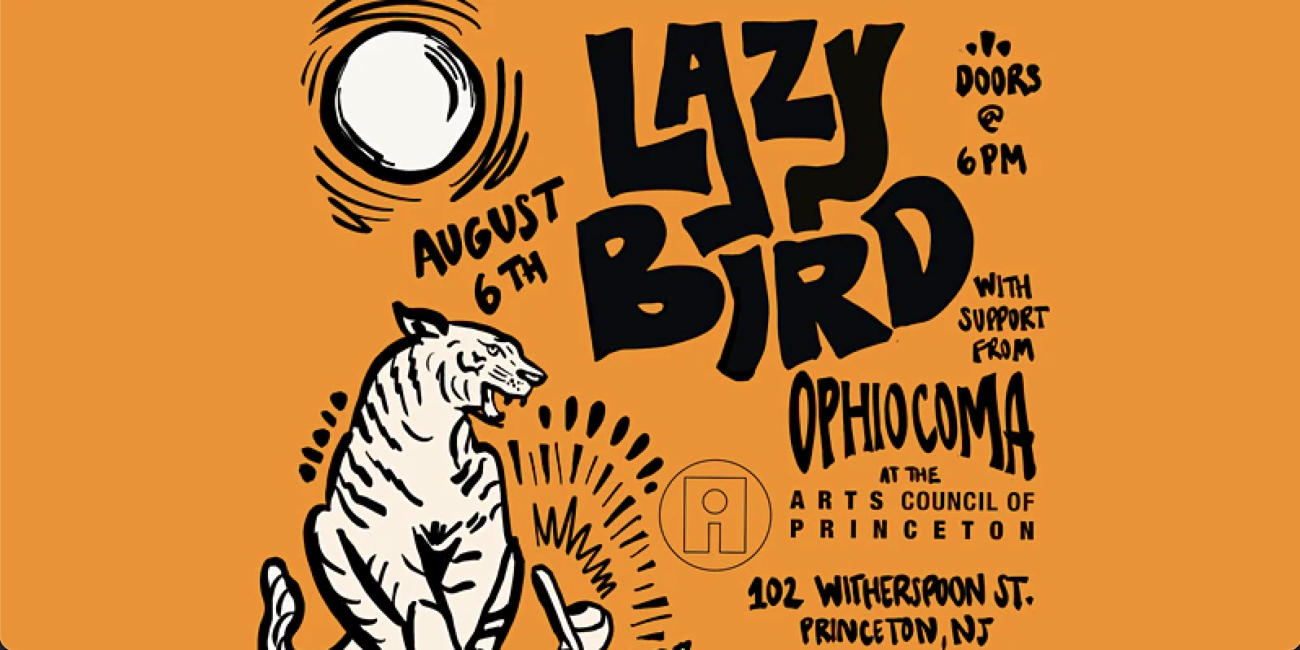 Parking Lot Pop-Up Show: Lazy Bird & Ophiocoma
Creative, charismatic, and certainly funky — these are just a few of the words that describe the young and upcoming band known as Lazy Bird. Hailing from the quaint yet musically inclined city of Burlington, Vermont, Lazy Bird's astounding ability to improvise leads to a completely different listening experience each performance. The band cut their teeth with dorm room jams at the University of Vermont led by guitarist Jackson Bower and Princeton-born Saxophonist Matt Cincotta. Shortly after, Lazy Bird found themselves traveling across New England to play with up and coming bands such as Dogs in a Pile and Six Fox Whiskey.
The members' love and respect for one another resonates with the crowd and invites any and everyone to dance along. Lazy Bird thrives on musical exploration, risks, and experimentation, and theynspecialize in a jam genre that is heavily inspired by funk, jazz, and soul. Lazy Bird has plunged headfirst into the music scene of New England while maintaining a unique sound of its own.
The meshing of each band member's spirited talent provides an upbeat and joyous environment wherever they perform. Each one of Jackson Bower's guitar strings leave a sweet flavor in the ear. The vibrant harmonies of Saxophonist, Matthew Cincotta, and Trumpeter, Justin Plakias, add a smoky ingredient to each song. Nodding your head would be impossible without the rock-steady beat of Tom Gladstone on bass and Cal McCandless on drums, complimenting each other and commanding the rhythm of the band. Lazy Bird's harmonic soundscape culminates with the combination of Nashville-native Will Grana on keyboard and Zoe Clark's powerful lead vocals. The popularizing group quickly captured the attention of a young Burlington audience while also satisfying the likes of old-school jam fans as well.
Together, the band members have used the sentimental beauty of music to bring people closer — the way in which it was always meant to be experienced. Lazy Bird provides the satisfying sound that brings a smile to anyone with ears and a heart.
Doors: 6pm
Ophiocoma begins: 6:30pm
Standing room only OR bring a lawn chair
Outdoor show; will be moved inside in the event of inclement weather.