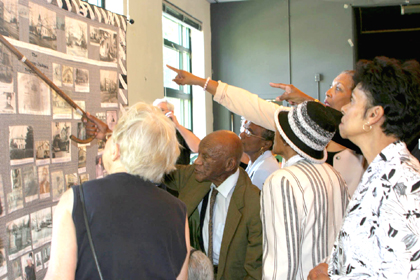 The Neighborhood Portrait Quilt is part of a permanent exhibition that tells a story of important leaders and residents.
The Arts Council of Princeton's Paul Robeson Center is fortunate to be located within the Witherspoon-Jackson neighborhood, an African-American community rich in historical significance vital to the fabric of the town. Neighborhood Portrait is a permanent exhibition that tells a story of important leaders and residents, like Paul Robeson, and key institutions that have made this neighborhood a vibrant part of Princeton's cultural life. Utilizing materials drawn from the collection of Historical Society of Princeton, the exhibition includes documents and photographs that illustrate the history of the building site where the Paul Robeson Center is situated. These formal and informal snapshots help narrate the history of racial segregation and the eventual social integration of Princeton's residents, and even more so, the cultural strivings of Princeton's African-American residents to create and build a deep and full community.
On Sunday, September 11, 2005, at 1:00 pm, in the loft studio of the Paul Robeson Building, the Arts Council unveiled the centerpiece of the future building's permanent exhibit of the Witherspoon-Jackson neighborhood—an original, hand-crafted quilt created through the transfer of over ninety photographs that together illustrate the history of the neighborhood. The photographs were contributed, solicited, and selected by four neighborhood residents, who also chose the quilt material and determined the order of the images. They also collected on small squares that form the perimeter of the quilt: the signatures of many of the current residents of the John-Witherspoon.
The quilt was crafted by local quilter and educator Gail Mitchell. At the celebration, Ms. Mitchell spoke about the project and about the significance and intricacies of quilt making. The neighborhood residents involved in the creation of the quilt—Shirley Satterfield, Minnie Craig, Lois Craig, and Cynthia (Chip) Fisher—were also on hand to share with the audience their knowledge of the neighborhood and the historical context of the quilt. During the afternoon, long-time residents of the neighborhood who had not yet signed the quilt did so proudly. "This event is the culmination of years of planning and of an ongoing collaboration," said board member Janet Stern, who, as the Arts Council's program director, first suggested the idea of a quilt to the neighborhood's residents. "The project brought together people who might not otherwise have crossed paths, and that is just one of the reasons why we are so excited about it. It was also a pleasure to watch the neighborhood volunteers become more and more enthused as the photos evoked memories and discussions about people, places, and events from the past," added Ms. Stern. "We were so privileged just to be there and to listen in on these personal reflections on the remarkable history of the neighborhood in which the Arts Council is situated. And then to see that history portrayed through the esteemed art form of quilt making is gratifying beyond imagination."
The quilt will be accompanied by captions that identify each photo. Following its unveiling at the Arts Council, the quilt joined the Preserving our Past exhibition at the Trenton City Museum at the Ellarslie Mansion. The quilt returned to Princeton to exhibit at the Arts Council's conTEMPORARY Arts Center throughout the month of February in celebration of Black History Month and was a component in the Black Arts Extravaganza on February 26. The quilt traveled "on tour" to the neighborhood churches and other institutions before it took up its permanent residence in the Arts Council's expanded facility.
1 Witherspoon Street in the early 1920s
2 Mt. Pisgah AME Church on Witherspoon Street
3 Witherspoon Street Presbyterian Church, founded in 1840
4 First Baptist Church, founded in 1885
5 Morning Star Church of God in Christ on Birch Avenue, 1941
6 Jackson Street houses
7 Children of Witherspoon School for Colored Children, 1904
8 Witherspoon School for Colored Children, incorporated in 1858
9 Annie
10 Diploma of a student at Witherspoon School, 1894
11 Betsy
12 Sarah Blackwell Harris, teacher at Witherspoon School
13 Witherspoon School for Colored Children on Quarry Street, 1908
14 Children
15 In 1948, the Princeton Plan integrated the public schools in Princeton Borough
16 Waxwood
17 Aerial view of Jackson Street, now Paul Robeson Place
18 The Masonic Temple on John Street, built in 1913
19 Joan Elizabeth Hill, Director of Princeton's Civil Rights Commission
20 Alice May Satterfield, Princeton Housing Authority Commissioner
21 Houses that were moved in order to build Palmer Square
22 Palmer Square
23 The Elks Lodge on Birch Avenue
24 The Charcoal Inn on John Street, the social club for colored men
25 Charles Robinson American Legion Post No. 218 on Lytle Street
26 Macon's Willow Inn on Rt. 1, Pleasant Macon, proprietor
27 (Far left) Imperial Restaurant, owned by Burnett Griggs. (Far right) Virginia Mills's Beauty Salon, both on Witherspoon Street
28 Lillie Taylor's beauty salon on Quarry Street
29 Birthplace of Dr. Henry Austin, later home of Robert Ball, owner of candy store on John Street
30 Allen's Tavern on Witherspoon Street
31 Building on Leigh Avenue purchased in 1934 by Fred and Doris Burrell
32 Charles Robinson Post 218 American Legion Drum and Bugle Corps
33 Baker Street, before Palmer Square was built
34 Sgt. Theodore Lewis, Princeton Borough Police Force
35 Patrolman Walter Harris
36 Lambert
37 Chauffeur Gala
38 Jimmy Johnson
39 Paul Robeson, renowned scholar, athlete, actor, singer, and humanitarian
40 Paul Robeson and Christine Moore Howell,Spring Street
41 Three buildings on Spring Street owned by William Moore
42 Jimmy's Barber Shop on John Street
43 Thomas A. Moore II, business and civic leader
44 Witherspoon YWCA Girls Club.
45 The "Colored YMCA." The original building was replaced with the present building in 1938-39
46 Y-Wives
47 Banquet
48 Emma Epps, celebrated Princeton volunteer
49 Map of Witherspoon-Jackson neighborhood, Courtesy of Historical Society of Princeton
50 Dr. Simeon F. Moss, soldier in the Italian Campaign in World War II
51 Tombstone in Princeton Cemetery of Reverend William Drew and Maria Bustill Robeson, parents of Paul Robeson
52 House on the corner of Green and Witherspoon Streets where Paul Robeson was born in 1898
53 Memorial plaque for Paul Robeson, corner of Witherspoon Street and Paul Robeson Place
54 Entrance to the colored section of Princeton Cemetery
55 Henry Pannell, chief builder of Clay Street Learning Center, now the Henry Pannell Learning Center
56 Bryan Van Zandt Moore, Assistant Mercer County Prosecutor
57 George Reeves, Sr., gave 45 years service to the Princeton YMCA
58 Andrew Hatcher, Associate Press Secretary to President Kennedy
59 Albert Hinds, born in Princeton in 1902
60 Mrs. Josie Broadway
61 James A. Carter, Negro Baseball League
62 Phyliss and Robert Sinkler,athletic trainer at University
63 Robert Joseph Rivers, Jr., Surgeon
64 Susie Brown Waxwood, Executive Director of the YWCA
65 Christine Moore Howell,owner of a beauty shopon Spring Street
66 The Citizen, a weekly Negro newspaper
67 Kathleen (Kappy) Montgomery Edwards, community activist
68 Payton Rhodes, owner of a hauling business
69 The site on Clay Street of the ice plant owned by Andrew Teague and George Barclay in the 1930s to 1950s. Also site of Gordon Park, on property owned by Addison Gordon.
70 Rex Gorleigh
71 Bruce Wright, Justice on the New York State Supreme Court
72 James Floyd, Mayor of Princeton Township
73 Penelope Edwards-Carter, Municipal Clerk of Princeton Borough
74 Frederick M. Porter, Jr., Princeton Township's first African- American police Chief
75 Cynthia (Chip) White Fisher, 1948
76 Shirley A. Satterfield, age 3, educator and historian
77 Mary Elizabeth Moore,educator and community leader
78 YMCA Football Squad, 1910
79 The Princeton Nursery School on Leigh Avenue, started in 1929
80
81 Minnie Lee Craig, first grade, community activist
82 Lois Craig, 1938, community activist
83 Princeton High School Football Team, 1946
84 African-American football team
85 Addie Louise Schenck, 1865-1927
86 Floyd Campbell, who served in the Army during World War II
87 Neighborhood young men
88 Mary Moss Playground on John and Lytle Streets
89 The Phantoms Baseball League, circa 1950s