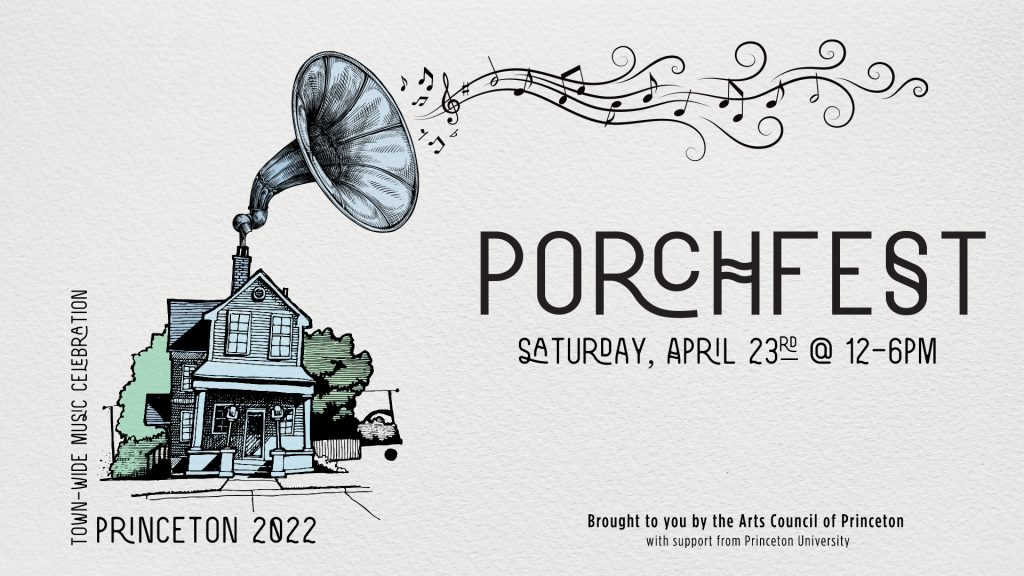 April ARTS will culminate on Saturday, April 23 with the inaugural Princeton Porchfest from 12-6pm. PorchFest is a family-friendly event featuring musicians of all kinds playing free shows on porches throughout the neighborhood. Attendees are invited to stroll from porch to porch and relax on front lawns and sidewalks as they enjoy live, local talent.
Piano Artists Include:
Leon Rainbow
Ronah Harris
Albelardo Montano
Susan DeConcini & Lisa Walsh
Marlon 7oveChild Davila
Stephanie & Naomi Nazario
More About Princeton Porchfest 2022
How does Princeton Porchfest work? Neighbors offer their porches, performers volunteer their talents. We pair the two and performances are held throughout the community between 12-6pm, allowing attendees to stroll from house to house while enjoying music and Princeton hospitality.
So it's free? Yes! Thanks to the good will of our sponsors, volunteers, performers, residents, community sponsors, and donors, Princeton Porchfest is free to attend.
Who organizes Princeton Porchfest? The inaugural Princeton Porchfest is brought to you by the Arts Council of Princeton with support from Princeton University.
What are the safety protocols? We're committed to hosting a safe and fun music event. We will adhere to all current COVID protocols on the day of Porchfest and will update this page with specifics as we get closer to the event.
Is Porchfest walkable? Short answer, yes! You are invited to walk, ride bikes, scooters, and/or push strollers as you move from one porch to another. Porches will be organized so that there will be plenty to see and hear close-by. A schedule of performances will be made available in advance so that you may plan which porches you'll hit.
What should I bring with me? You don't need to bring anything, but you're welcome to bring water, snacks, and an umbrella for rain or to keep the sun off your back. We also suggest a blanket or lawn chair to stay comfortable during the 40 minute sets.
Eating and drinking? Attendees are welcome to bring water or snacks to enjoy along the route, but we highly recommend checking out the incredible restaurants, bars, and cafesPrinceton has to offer. Come for lunch and stay for dinner!
Will there be bathrooms? The Arts Council welcomes you to use our facilities at 102 Witherspoon Street.
Is there a rain date? No. Princeton Porchfest will be held rain or shine!