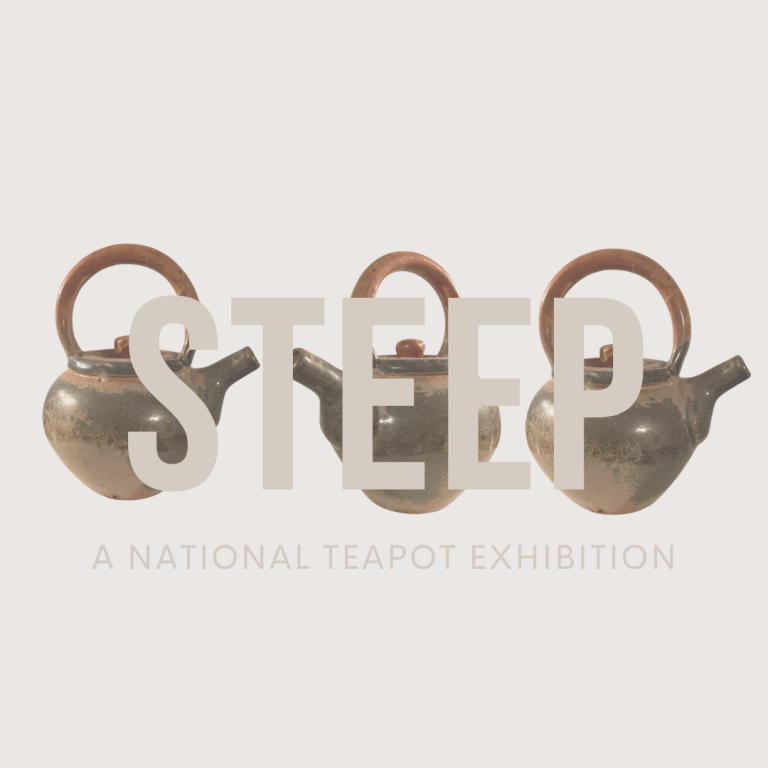 STEEP: A National Teapot Exhibition
STEEP: A National Teapot Exhibition is an exhibition showcasing ceramic work that explores the infinite possibilities of the idea of a teapot. This year's exhibition will be juried by Adam Welch, ceramic artist and ACP Executive Director.
IMPORTANT INFORMATION:
Applications must be submitted no later than April 15, 2022.
Exhibition dates are May 7-28, 2022.
Artwork should arrive between April 25-29, 2022
Open to artists 18 years or older living and working in the USA.
The artist is responsible for shipping and insurance of the work to and from Princeton, New Jersey. The ACP is responsible for insurance during the exhibition.
Work must be shipped in durable reusable containers.
Current show awards include Best of Show ($250), Jurors Choice ($100), Honorable Mention ($50).
A nonrefundable application fee of $35 will be collected with the submission of the application. 
APPLICATION DETAILS:
Work must address the idea of "teapot" and be made primarily out of clay/ceramic. Work must have been completed in the last 2 years. Size may not exceed 12 inches in any direction.
All work must be for sale. Sales commission split is Artist 60%, Gallery 40%. Accepted work which differs from the submitted image(s) will be disqualified.
Artists may submit images for up to two entries, and a maximum of two images for each entry. Images should be .jpg files, 300 dpi, and no larger than 2000 pixels in the largest dimension. Image files should be named with the image number, your last name, and your first initial (for example: 1-DoeJ.jpg, 2-DoeJ.jpg).
The following information must be included with your online entry form:
file name (including the image number as specified above)
title
material (submitted work must be made primarily of clay)
dimensions (h x w x d)
year completed
retail price (the ACP will take a 40% commission on all sales)
The Arts Council of Princeton reserves the right to photograph works, and use submitted photo material of accepted pieces for the purposes of documentation, education, publicity, promotion, and future grant proposals.Your submission of materials constitutes your agreement to comply with all the conditions and terms set forth above. I understand that all decisions by the Arts Council of Princeton and the juror are final.
Adam Welch is the Executive Director for the Arts Council of Princeton. Adam is an artist, critic, and educator. Adam's art is about making and decoration. His writing examines the artists and activities of contemporary art. As an educator, Adam encourages students to inquire and create, examine worldviews and to awaken their understanding of self and the world and the relationship of the two.
Adam has participated in thirty-seven solo or group exhibitions in the United States over the past ten years, including at the Arts Council of Princeton, MoMA PS1 and White Columns in NYC, and AIR Gallery in Brooklyn, with solo exhibitions at the Hunterdon Art Museum, Kean University, Princeton Day School, and Northwestern College, and several curated, group, and invitational exhibitions throughout the United States. His art has been featured in four books including The Best of 500 Ceramics: Celebrating a Decade in Clay and 500 Ceramic Sculptures: Contemporary Practice, Singular Works, in the NCECA Biennial (Tampa Museum of Art) catalogue and has been reviewed in Ceramics Art and Perception, the Korean magazine Monthly Ceramic Art, and featured in Ceramics Monthly. Additionally, in the last ten years he has published forty-eight scholarly essays, reviews and catalogue essays.
Before joining the team of the Arts Council of Princeton, Adam had worked at Greenwich House Pottery since 2003. In 2007, he was appointed Assistant Director and in 2010 appointed Director. In 2010, Adam was appointed lecturer at Princeton University where he continues to teach. Adam holds a MFA from Virginia Commonwealth and a BFA with a minor in Art Education from Northern Arizona University in Flagstaff, Arizona. He lives in Hightstown, New Jersey with his wife, Rachel, a fashion designer, and their two daughters.