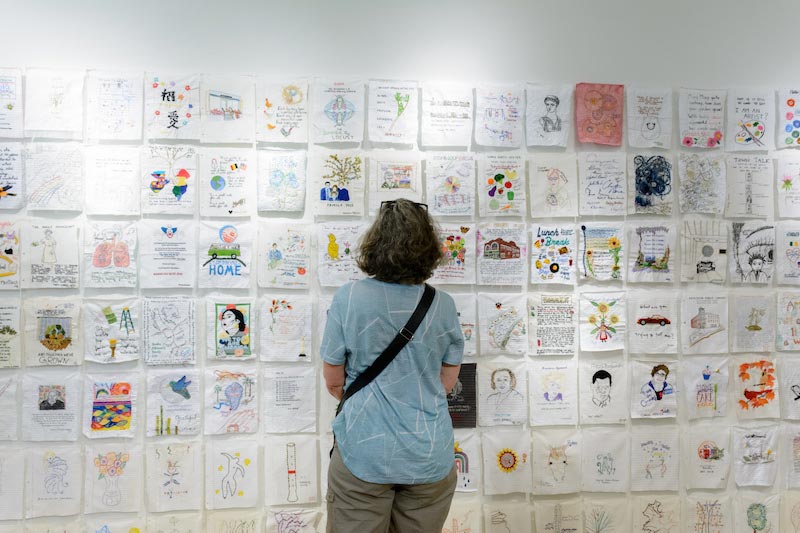 Interwoven Stories: The Final Chapter
Created by Diana Weymar; Works by Interwoven Stories Stitchers
In early 2015, Maria Evans and I met at Small World for a coffee to catch up. I had been stitching John McPhee's words into 3-hole lined "paper" made out of my grandparents' bedsheets. Maria, through the Arts Council of Princeton, had just worked with Princeton Young Achievers (PYA) students during the holiday season to make embroidered ornaments. I was planning a trip to Nicosia, Cyprus with Build Peace to work on a textile project on both sides of and in the U.N. Buffer Zone. Maria was running an Artist-in-Residency program that connected artists with the Princeton community. We quickly became intrigued by the possibility that our passion for thread and textile might inspire others to create public art. We had no idea that the project we would work on together would eventually be brought to San Francisco, Zurich, Belfast (Northern Ireland), Bogotá, Victoria B.C., the island of Nantucket, Damascus, the Unversity of Pudget Sound, and the virtual world through social media.
My Interwoven Stories Artist-in-Residency at the ACP began in 2016 with a group show, Every Fiber of My Being, featuring work by myself, Maira Kalman, Amy Meissner, Katie Truk, Caroline Lathan-Stiefel, Danielle Hogan, and Cassie Jones. In the fall, we exhibited 173 pages that had been created in the Princeton community through art activists, local organizations, and the Arts Council. In 2018, the project came back for the Interwoven Stories International exhibit, with more than 150 pages from new chapters. Today, the Arts Council of Princeton chapter is alone is over 260 pages. In this gallery on exhibit are the early pages I was working on when Maria and I met – the John McPhee pages – plus guest chapter pages, and the entire Arts Council of Princeton collection.
Though it is easy to track the growth of this project in numbers, the true measurement of the project's reach has always been something less tangible. The last six years, since this project began, have seen a lot of change for all of us. Some of this change is very hard to capture. By reopening the project to new pages and installing it in the gallery for a third time, we hope it's a reflection point for all of us.
While installing the project, Maria and I talked about the people who made the pages. A cluster of participants from 2016 have now graduated from college. Others have moved. Some are no longer with us. Many of us have gone on to other things. I went on to create Tiny Pricks Project (a public art project of over 5,000 pieces) based on my experience with Interwoven Stories. The Arts Council remains a vibrant center for the intersection of art and community. You never know where the thread will take you and when it will bring you back home! It is wonderful to be back here with old friends, new pages, and to share this project with visitors to the gallery. A page I stitched for the Zen Hospice Project simply states, "May I sit with you." I hope you will sit in this room with the contributors to this project. We have made these pages for you, to tell you a bit about who we are and where we have been. We hope that you will write in our Guest Book and tell us a little about you. And we hope that a project that had its inception at Small World Coffee has made your world a little smaller, more interwoven.
– Diana Weymar, creator.
Interwoven Stories is a community-based narrative stitching project created in March 2016. Conceived and facilitated by Diana Weymar, 2016 Artist-in-Residence, the project created a special dialogue within the Princeton community. With some participants picking up a needle and thread for the first time, each stitcher received fabric, sewn to resemble a blank 3-hole piece of notebook paper, to tell a story through their memories, honor beloved family or friends, or return home to a favorite place through needle and thread.
The response to this project exceeded our wildest expectations. Each page spoke to the generosity, diversity, spirit, commitment, and creativity of this community and ultimately, more than 100 completed pages were donated to Interwoven Stories 2016 and displayed in our Taplin Gallery.
In 2018, we expanded to Interwoven Stories International when Diana returned to the Arts Council after taking the project on the road for two years to curate more than 250 pages collected from Princeton, The Peddie School, the Nantucket Stitching Gam, the Zen Hospice Project (San Francisco), Open Space Art (Damascus, Syria), Build Peace (Columbia), the University of Puget Sound (Tacoma), Yarns/NoDominion Theater (Jersey City), and Trans Tipping Point Project (Victoria, BC).
In the winter of 2022, the Arts Council announced the last opportunity to get involved in the project. Interwoven Stories: The Final Chapter went national, inviting eager stitchers across the country to participate. Pages were picked up locally, shipped across the nation, and one by one, returned with the unique touch of a new story to be told, adding the stitcher's voice, thoughts, and thread to our permanent collection of pages.
This exhibition showcases the 300+ "pages" that have been part of the Interwoven Stories collection since 2016. Visit, peruse each piece, and marvel in embroidery's storytelling power.