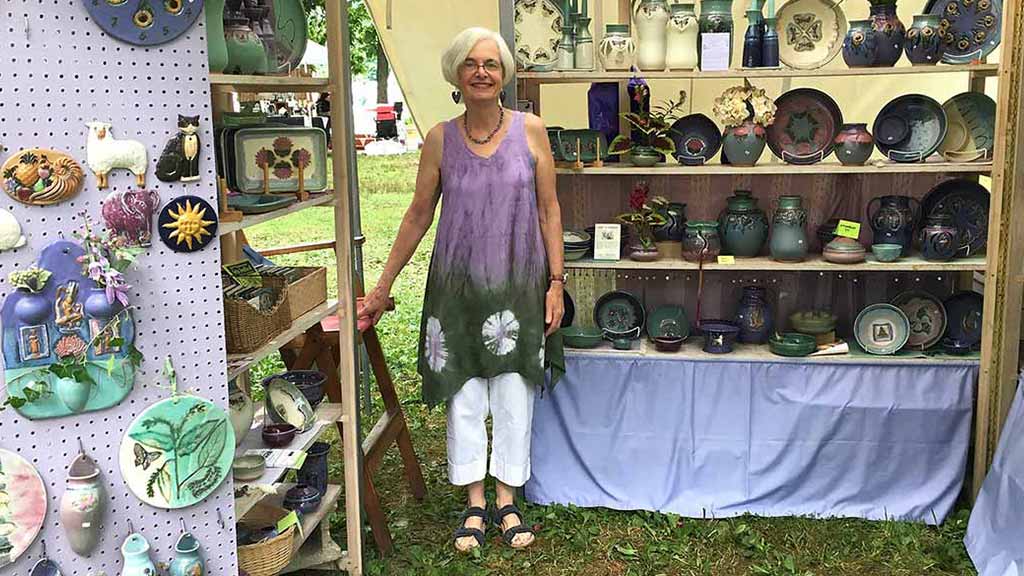 19 Mar

March Artist Spotlight! Meet Marsha Dowshen

From the time I was born in Tenafly, NJ on January 23, 1945 (012345 for numerology buffs) my love for crayons and mud set me on my unrelenting path of becoming a hands-on visual artist. My focus was so strong that I only applied to one school, The Rhode Island School of Design. RISD gave me the focus and tools to help me continue my path. I graduated with a B.F.A in Painting, with some secondary studies in ceramics — that later became the most important part of my work.In the mid-1970s, after the birth of my first child, I quickly learned that removing mud and clay from the hands and clothes of a two-year-old was a lot easier than removing oil paint. So, my underlying love for clay created a natural way to refocus my art. I started doing independent study at Mercer County Community College, finding unique ways to combine my two-dimensional work with functional and decorative pottery.I developed my own ceramics studio where I began experimenting by translating my painter's color and design sense into the art of wheel throwing and glazing of objects that could be both functional as well as pieces of art in themselves; "three-dimensional canvases" as I like to call them. I've developed many unique glazes and application techniques along the way. I have been making and showing these pieces at fine art and craft shows (over 25 shows a year in some years) in New Jersey, New York, Pennsylvania, and Delaware ever since.
How has it been being an artist during a pandemic?
During the pandemic I made up for cancelled shows with the development of a Covid-19 project entitled, "Undaunted", celebrating human resilience and survival. Undaunted is a series of three-dimensional wall hangings made up of my collected shards of pottery, tiles, porcelain pins, wind chime parts, and pyrometric cones