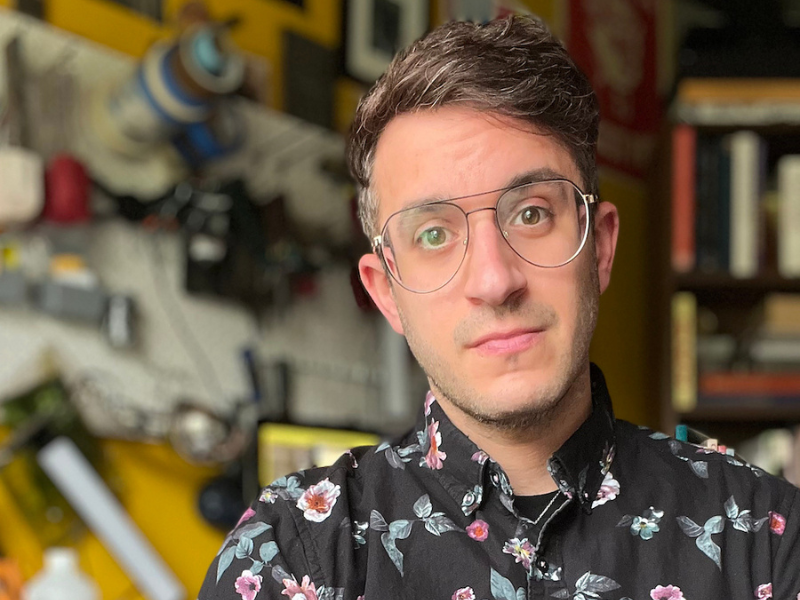 06 Mar

Residency Recap with Dave DiMarchi

Dave DiMarchi was the Arts Council of Princeton's Winter 2022 Artist-in-Residence. At the close of his residency, we caught up to hear how the experience influenced his work and what's next for this innovative printmaker.

Arts Council of Princeton: Dave, congratulations on completing your Anne Reeves Artist-in-Residency! Named for our founder, this program is designed to empower artists with the freedom to further explore their respective mediums and inspirations. Tell us about what you were working on throughout your residency and how the program pushed your practice.

Dave DiMarchi:
Thank you—it has been a busy few months! The Anne Reeves Artist-in-Residency allowed me the freedom the really explore my artmaking practice in more deliberate, slow and intentional ways; often questioning my traditional approach to printmaking in favor of more spontaneous approaches to color, layering, images and composition. Throughout the residency, I have been working on a series of editioned screen prints—each an assemblage of collage-style imagery, a sporadic and chaotic exploration of color and layering, and an opportunity to deepen my relationship with the emotions of making work. What started as traditional hand-built collages transformed into reproducible many-colored and layered screen prints, allowing for the intricacies of each process -each print, each layer- to dictate the next.
née Siniscalchi
25-stencil tromp l'oeil screen print on Fabriano Rosaspina
2023
ACP: Regarding your prints, which techniques or methods of printmaking did you use to achieve the results of your finished pieces? Any of them new to you or push you out of your comfort zone?
DD: The work is largely a continuation of my love of the speed and approachability of screen printing. The shift -and where the residency pushed me- was the ways in which I approach making: simultaneously working on 10 prints at once, with more than 100 images scattered across almost 20 screens and a collection of nearly 60 different colors—a feat that I would not recommend (but it certainly fed my creative monster). The freedom of the residency (and not making prints with any specific goal) also let me make decisions I would not have allowed myself under other circumstances. I could abandon prints that were not working, I could overprint areas that needed a new color or image, I could set prints aside until they told me what they wanted or until I had the perfect next thing. Without the pressure of a deadline, without the pressure of the need to make work for an exhibition or a client or a class demo—just allowing myself to make work for me, I could be more discerning about working how and when I wanted, towards a portfolio I have not a single second guess about.
She Yelled Our Names Off The Back Deck
16 stencil tromp l'oeil screen print on Fabriano Rosaspina
2023
ACP: Your work is informed by family, queer domesticity, and life's little moments that are often overlooked. What is it about these themes that compels you to capture them in your work?
DD: I have been hesitant to include myself in my past work—there's a vulnerability in allowing your experiences to reflect onto an audience. I wanted this work to push me into that space, and in doing so, it led me to better understand more about the parts and pieces I am made of: a family of turn-of-the-20th century Italian immigrants, a deep-rooted connection to a few blocks of Gravesend, Brooklyn, a childhood of car trips, weekends with Grandma and parents who would lead separate lives with separate partners. It opened me up to exploring my own queerness—and just how far back I've been able to recognize it.
The work is a record of these memories, constructed with images, text (and text-adjacent mark-making), color, textures, and drawing. It's simple post-it notes, like the ones attached to the top plastic wrapped cupcakes dropped off at school for your birthday, it's the seeds and plants you helped your dad bury in the garden at the top of the hill in the backyard. It's the nursery school paper plate handprint Christmas wreath hanging off the closet doorknob that my mom probably still has somewhere in the attic. And those so-vivid-you-can-smell-them memories of growing up—and the shape of everything they've made me.
ACP: What is it about printmaking as a practice that speaks to you? What would you tell someone who might be interested in the medium but doesn't know where to start?
DD: I am almost sure you do not have the space for me to extoll everything I love about printmaking and how it is my not-so-secret plan to make everyone a printmaker. Above all of it though, is that really anyone can be a printmaker. Have you made fingerprint paintings? You've experienced inking a matrix. Have you ever walked in fresh snow? You've made prints. Have you ever made a batch of slice-and-bake cookies? Congrats. You're a printmaker.
Printmaking—for as long as it has existed—is technique. It is learning how to carve a block, scratch a piece of metal, push ink through a stencil, draw on the surface of a stone. Like tying your shoe, printmaking is a series of steps to follow that lead to a satisfying result. As a teaching artist and ACP's Printmaking Studio Manager, I believe in the transformative power and small-d democracy of printmaking—that anyone can make prints and anyone can be a printmaker. The practice of printmaking—the day-to-day making—is the thing that makes you better at it.
What would I tell someone who doesn't know where to start? "Try it." Take a workshop, check out the ACP's printmaking classes, buy a DIY kit, watch a video, go look at prints. Discover something you would have never known about your ability to make art. That's the real power of printmaking, a real "I made that, and that, and that…" (printmaking, after all, is about making multiples). I have a deep respect for and seriousness about the traditions of printmaking, it's techniques and tools—but at the end of the day, it is ink, paper and a little bit of time. Try it.
cul-de-sac
22 stencil tromp l'oeil screen print on Fabriano Rosaspina
2023
ACP: So Dave, what now? With the residency behind you, what are you inspired to explore next?
DD: While the residency is over, the work still goes on. Beyond wrapping up the final layers of a few more
residency prints and beginning to explore exhibition opportunities for them, I've just begun a collaboration with New York-based artist Aaron Krach. Our collaborative work will largely be centered on collage—his more analog and hand-built from found sources, vintage ephemera and books, mine more based in layered printmaking practices like screen print and relief. The aim is still mostly undefined—maybe a book, maybe a suite of editioned prints, maybe both or neither—that's the exciting part: the conversation between artists making work.

Additionally, I'm not going anywhere any time soon. My work as the Printmaking Studio Manager at the Arts Council continues. We're working towards an extensive offering of printmaking classes and workshops this Spring, Summer and Fall, including beginner, intermediate and advanced techniques in relief, intaglio, screen print, monoprint, alternative printmaking (like cyanotypes!), papermaking and a sundry of book art classes. We'll also be launching our new Printmaking Studio Rental & Printing Program in the coming weeks—allowing for the roots of printmaking to reach even deeper through the Arts Council.
ACP: Where can we find you online and on social to keep up with your work? And around the Arts Council?
DD: You can follow me on Instagram @9inhandpress, or keep up with my website at 9inhandpress.com. At the Arts Council, find me in the Printmaking Studio—take a class, rent the studio (coming soon!), book some one-on-one or small group learning sessions, or just drop by and check out the new studio.
106 Lama Court, BKLYN
24 stencil tromp l'oeil screen print on Fabriano Rosaspina
2023
DD: Finally, I would like to take a minute to thank the Arts Council for the opportunity provided to me and my practice. To Adam and Maria for the deep conversation, support, and encouragement throughout the residency. To Melissa for always being open to having her ear bent, pushing me when you knew I needed it, and always asking for more (really, I wouldn't have documented a bit of this process if you hadn't insisted). To Tim, for your support of the Anne Reeves Artist-in-Residence. To Liz, for talking me off a ledge when painting over a half-done mural seemed like a reasonable next step and showing me how beautiful a ladder can be. And to the rest of the Arts Council staff for doing your part to support the arts in Princeton and beyond. I will be eternally grateful.
Dave DiMarchi
Artist-Owner
9 IN HAND PRESS
Fine Art Printmaking & Graphic Design
Art Education
www.9inhandpress.com
This project would not be possible without the support of Timothy M. Andrews, longtime supporter of the Arts Council of Princeton, who has generously underwritten the Anne Reeves Artist-in-Residence program.