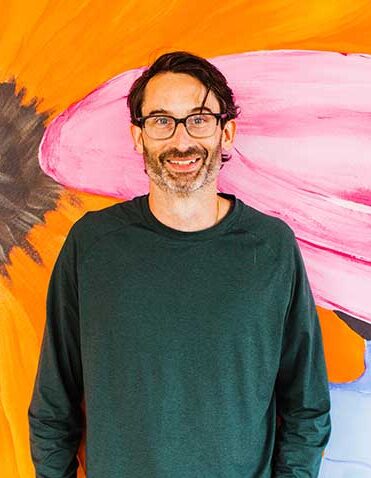 06 Oct

Staff Ramblings: Jason Maccaroni
Get to know the folks that make up the Arts Council's team! in this edition, you'll meet staff member Jason Maccaroni, facilities manager.
Our local custom-made printing press arrived in mid-September opening an entirely new department of classes and creativity to our community! One of the most exciting things about working at the Arts Council is how emphasis gets placed on new materials for a few months while preparing for a department or exhibition launch. Recently, in relation to this new development, I was lucky enough to be encouraged by our Artistic Director and Education Manager to sign-up for a November woodblock printmaking workshop. The workshop is inspired by the prints of Wendell Brooks, and taught by Celia Connaire. This is excellent because I will need plenty of time to prepare. 'Plowboy' inspiration strikes. The etching's skeletons and laborers clearly contrast the use of dead and living labor and social conditions embedded in a brutal form of production. This image is compelling and carries the influence of generations of artists representing social struggle in print—just the kind of work to get behind. 
Right, so far so good I'm going to a workshop. Noticing now we are instructed to bring a 3×3 sketch of an image for a monochromatic print. Of course, instantly I sink into a whirlpool of images that want to become infused with ink on paper. To limit this cacophony and select a domain of ideas I first looked directly at Brooks' own work. Upon finding a powerful early etching from 1961 (the same year that the Berlin wall is built) held by the MoMA called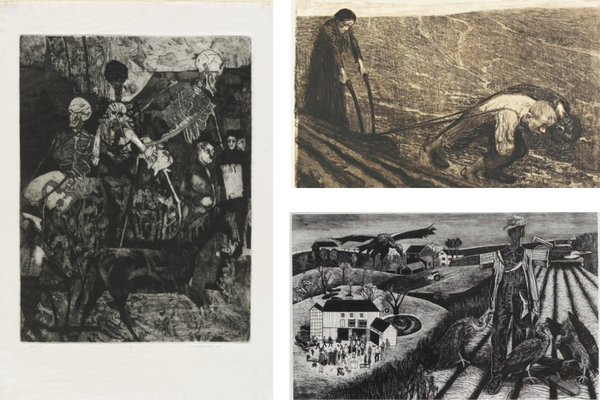 A general theme starts to emerge of what could be sketched for printing in November—something that calls attention to exploitative labor relations. With October on the horizon, I decided to follow the plow and skeleton motif. From here I gravitated to Käthe Kollwitz's Plough-Puller and Wife (pictured below) from the 1902 series depicting the Peasants' Wars in Germany (an amazing historical sequence). Another group of images that inspire is Leopoldo Méndez's commentary on the Mexican Revolution called Plowing the Field, and Skeleton on horseback trampling others beneath him (Corrido of Stalingrad) made in 1942. But something was still missing; these images felt relevant but not quite contemporary enough. The search continued until I found Paul Markus's woodcut The Auction (pictured below) from 1986 about border crossings and the farming crisis in the US. It was part of a 1988 MoMA publishing called: Committed to print: social and political themes in recent American printed art.
Okay, I think rambling about an investigative process could probably stop here. Undertaking this simple task for the workshop could innumerate images and expand like a universe unto itself. One must impose limits. I have to say upon closer consideration that what at first was an apparently simple proposition has become a wonderful new preoccupation with the use of block printing in relation to social narration. So, on the basis of being invited and preparing for an up-and-coming workshop, this glimpse into printing has come alive for me. Moreover, historical periods, and methods of artistic production in printmaking after only a month has begun to feel a little more personal. I'll probably have my 3×3 sketch ready just in time—will start working on it right after I watch episode 2 of The Enduring Passion for Ink, focusing on the artist Chen Haiyan. Perhaps the motif of plow and skeleton in relation to social contradictions will get one more point of reference before heading to the press.