02 Feb

Staff Ramblings: Stephanie Nazario
Get to know the folks that make up Team ACP! In this edition, you'll meet Stephanie Nazario, Financial Manager.
In 2022, the Arts Council challenged me to participate as an "artist" in two of our amazing public community programs. I have never considered nor labeled myself an artist, as my profession as a financial administrator isn't artistic at all… however, my daughter Naomi and I have been passionately crocheting since the pandemic and we've been sharing our love of it with our friends and family.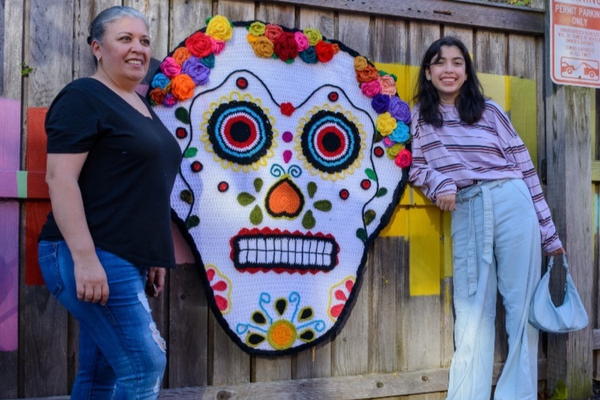 All of our work has been on a smaller scale, however the two projects that the ACP asked Naomi and I to work on were on a much larger scale! We covered a full upright piano (and stool) with crocheted recycled plastic bags for our April Arts Piano Project. Our second project was to decorate a 4+ foot tall Skull for our Day of the Dead festival.
These ACP projects encouraged us to come out of our 'comfort zone' and think on a bigger scale. Now the possibilities are endless! And a testament of the ACP pushing us to me to accept myself as an "Artist"