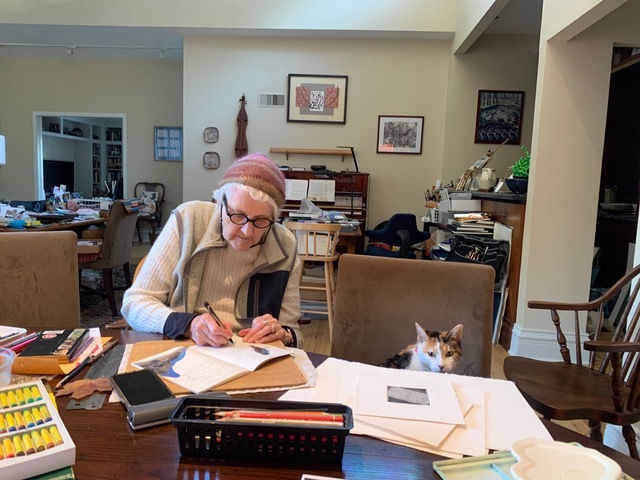 02 Feb

Meet our Members: Martha Otis
Get to know the folks that make up the Arts Council's vibrant member family! in this edition, you'll meet Martha otis, ACP member of over 30 years.
How long have I been involved with the Arts Council?
I'd like to say forever! I can't remember not ever not being involved. I moved out to Princeton in the early 70s with my family (husband, and two small children) from NYC and I worried that I would miss the city energy and creative outlets. ACP showed me I would be right at home. It was a looser organization than – directed in part by Anne Reeves. I was an avid potter with a studio in my garage on Maclean Circle. I let neighborhood kids make things in clay and I would fire everything in a large kiln that Helena Bienstock and I constructed for our own work. We were part of a group we formed called Transformations – we "transformed' the UStore with our crafts, which we sold from Thanksgiving through the holidays. Occasionally I would teach adults. I'll never forget my clay workshop sponsored by the Arts Council – "Tunnels, Towers, and Bridges". Another was a mask-making event in which we took a pizza-like slab of clay and put it on our faces; pushed in eyes, nose, mouth, then dropped it off onto bunched newspaper and worked it some more to form a mask from our own faces. FUN!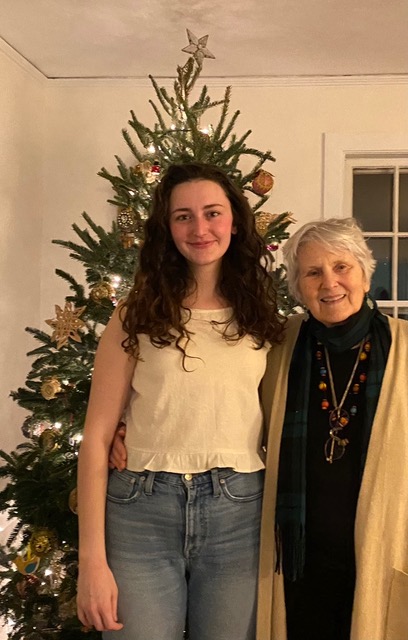 What is my favorite thing about being an artist at the ACP?
There are many favorite things. I can't really have a pottery studio at my current house because I am not able to do the heavy lifting involved. The studio at ACP is wonderful. Also, I need a community of artists to work with and am totally inspired by the people I find at ACP. It is a magnate for creative people. I find courses with great teachers that take me into new territories. Eva Mantell. Mickey Waring. Piroska Toth. Barbara DiLorenzo. I wish I could participate more but I have had some health challenges. In a way, the pandemic Zoom courses have been good for me because going places is sometimes hard. I love all the shows, but the Annual Member Show most of all, when I can exhibit my own work. I was very touched when my piece sold. The most amazing creative ACP project has been with Diana Weymar – Interwoven Stories. I was involved from the beginning and it got me through the pandemic. It is exciting to be part of an art project that is traveling around, inspiring and engaging people from all the world! Now we have the Princeton Sketchbook Club, which has me in a panic. I must get to work to finish my book! Again this will travel the world over.
A friend said to me that he was on a bumpy road to 80 and that is certainly true of me (I'll turn 80 in August) and having ACP in my life makes all the difference. I love that it is near the center of town! To my mind, it IS the center of town!
I'm very grateful to all the administrators, teachers, and volunteers who keep the place humming.
– Martha Otis
Your Membership provides critical support for our free community educational programs, celebrations, and exhibitions that enrich, surprise, and inspire so many. When you become a member of the Arts Council of Princeton, you're supporting the arts that keep our town vibrant, creative, and inclusive. As an organization that receives no direct funding from the municipality, we rely on support like yours to continue to keep the arts thriving in Princeton. 
Your ACP Membership also provides you with discounts on classes, camps, workshops, and our ART OF series, as well as a special monthly members newsletter, and valuable savings when you shop at local partners (such as McCaffreys). Click here to see full list of our participating local merchants.